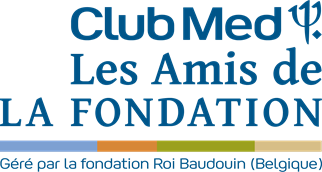 The fundraising of the Friends of Club Med Corporate Foundation
'The Friends of Club Med Corporate Foundation' fundraising was founded in 2012 in response to a request made by our G.Ms, with the aim of collecting financial donations from the growing numbers of our clients and partners who also want to participate in the charitable projects identified by the Club Med Corporate Foundation.
This organisation is a charity account under the auspices of the King Baudouin Foundation in Belgium. This highly-reputed umbrella foundation provides a guarantee of the seriousness of the projects selected and the reliability of the donor channels. In some cases, it can also be used to benefit from tax deductions in France, in most European countries and the United States.
For more information about the King Baudouin Foundation, go to www.kbs-frb.be.
Whether they have participated in an auction, a swimming relay, a charitable tournament or they have made a bank transfer from their armchair, over 3000 'Gentils Donateurs' have already sought to share a token of the well-being that they have received during their holidays in the Resorts of the Club with the local population of the host country.
In 2016, thanks to these donations, €111,000 have been collected and have enabled to fund 12 projects in 6 countries.
You too, can contribute to the projects of your choice, in total security, by making an online donation on this platform.
Be 'Happy to Share' by giving to the Friends of Club Med Corporate Foundation means supporting projects:
which will be of benefit to the countries and regions of the Club Med Resorts and business units
in which G.Os and G.Es are themselves involved
and whose selection process and seriousness are guaranteed by the King Baudouin Foundation of Belgium
for which at least 95% of the donations will be of direct benefit to the beneficiaries, given that the running costs are paid for by the Club Med Foundation
which are eligible for an income tax and wealth tax rebate, with tax receipt (depending on the nationality and mode of payment of the donation, see F.A.Q)
In 2018, 80% of the donations to the Friends of Club Med Foundation were awarded directly to projects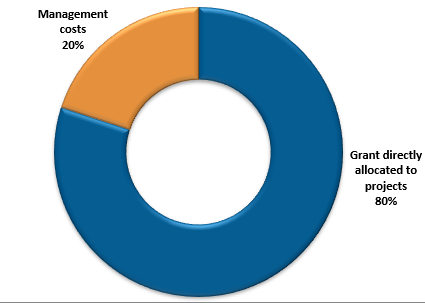 Management Commissions of Fondation de France and King Baudouin Foundation
Newsletter Les Amis de la Fondation Club Méditerranée
Subscribe to the The Friends of Club Med Corporate Foundation platform newsletter
Les Amis de la Fondation Club Med