Happiness, the more we share it, the more we receive it...
It was from this conviction that the Club Med Foundation was born in 1978. Now over 40 years old, it is one of the oldest foundations created by a company.
A local solidarity activator
Today, our Foundation continues to move forward by developing new forms of solidarity that involve not only the time and skills of its employees, but also the entire Club Med value chain, for the benefit of local organizations.: from financial contributions to the involvement of suppliers, from donations of equipment or stays or infrastructure loans, from employee to customer commitment.
It focuses its commitment on two priority areas, based on key partners identified and selected for the effectiveness of their action, around Club Med sites:
   - YOUTH: EDUCATION AND RECREATION FOR VULNERABLE 
   CHILDREN AND YOUNG PEOPLE
   - PLANET: BIODIVERSITY PROTECTION

Youth: facilitating access to education and recreation for all
Among our programs with our key partners in social or educational action supported in the long term :
- Hundreds of children accompanied to sports schools in our villages.
- Dozens of young people welcomed for job discovery, internships, or hired as part of the "passerelle métiers" program.
- Thousands of children welcomed during the Planetary Snacks, days of festivities in all our villages.

- Dozens of stays offered to make sick children's dreams come true, solidarity holidays or to benefit partner associations.
Environnement : agroécologie, préservation des océans et soutien aux eco-acteurs locaux
- GREEN FARMERS : soutenir la production locale et une alimentation saine pour soi et pour la planète en accompagnant des petits producteurs en gestion et en agro-écologie
- BLEU MARINE: lutter contre la pollution plastique en mer Méditerranée avec Expédition Med, protéger les cétacés avec le WCA ( World Cetacean Alliance),…****
- « GREEN KEEPERS » : des partenariats avec des associations locales de protection de la biodiversité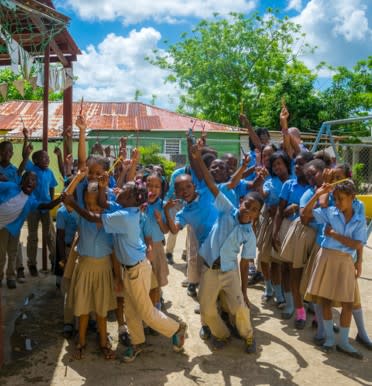 The "G.M" at the heart of the action
More than ever, our G.Ms are showing themselves to be "happy to share" and the Foundation offers them many ways to contribute to its approach.
"Funraising : G.Ms can financially support the actions of our Foundation. Whether during festive, cultural or sporting events in resorts, or back homes, for online auctions for example.
They can also make a donation during their online booking or whenever they want by making a donation on the website of the Friends of the Foundation.
Donations are secured and entirely distributed to selected projects and NGOs.
The "Friends of Club Med Foundation is a charity account part of the King Baudouin Foundation of Belgium. This celebrated organization is proof of the seriousness of the selected projects and the reliability of the donation channel system. In some cases, donators can benefit from tax deductions like in France, in most European countries and the United States.
"The Foundation tries and meet local needs by distributing its resources between large numbers of programmes proposed by GOs-GEs around the world. And, it is through the generosity of our clients, our GMs, now "Gentils Donateurs", that ever more projects can be turned into reality, and more quickly."
Agnès Weil, General Delegate of Club Med Corporate Foundation